[an error occurred while processing this directive]










FREE INSTALLATION. Just ask, we'll install Webdata onto your server or walk you through it over the phone. [an error occurred while processing this directive]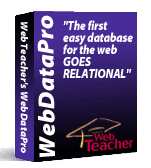 Webdata Pro - Create relational web databases with no programming
Webdata Pro is the relational version of Webdata with a MySQL backend. It offers the power and flexibility previously available only in packages which cost 10 times as much and require programming skills to administrate. Our web database software requires no programming experience. All administration functions are performed with a web browser and a mouse. The simple point-and-click interface for building tables, designing search pages, and managing data is easy and intuitive.
To Try a Live Demo Online...
Click the "Try it" link above and select a database name and password.

To install your own fully functional copy with a free 30 day trial period
Follow the installation instructions below

View the README file: Click Here

WebdataPro vs PHP: One user's testimonial. Click Here

Watch a Video Tutorial Click here
To Install...
Installs on all types of Unix, Linux, and Windows servers.
(Prerequisite, you must have MySQL and the Perl MySQL modules on your server.
Click here for help installing MySQL and Perl on Windows).

Click the "Download Webdata" link above to download webdata_pro.zip.
Extract the file with any unzip program such as "WinZip" or "Pkzip"
Have your MySQL administrator create a new database, and make sure you have a MySQL username with full privileges to that database.
If you don't already have an "uploads" directory from Webdata 2.x, create a directory under your browsable web pages (not under cgi-bin) named "uploads" and give it 777 permissions Windows users, grant "uploads" read, write, and delete permission)
Open the "webdata_pro.pl" script in wordpad or any text editor and edit each line according to the instructions contained within the file.
Upload webdata_pro.pl and wdpro.pm to the /cgi-bin directory.
Assign 755 permissions to webdata_pro.pl and wdpro.pm Windows users, make sure the cgi-bin is set to execute scripts
Upload the entire "_images" directory to the uploads directory, so that _images is a sub-directory of uploads
Browse to "/cgi-bin/webdata_pro.pl" and enter "admin" in the E-mail box, and your admin password in the password box.
Either open "readme/readme.html" locally on your desktop machine or upload the "readme" directory to your server and open it there.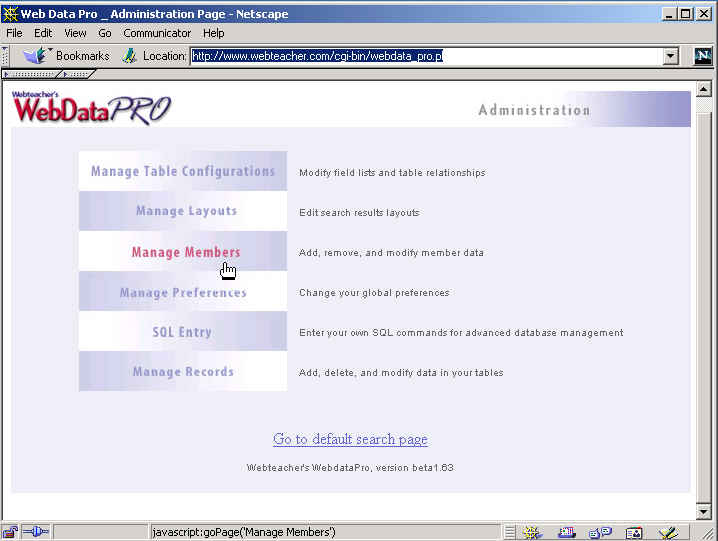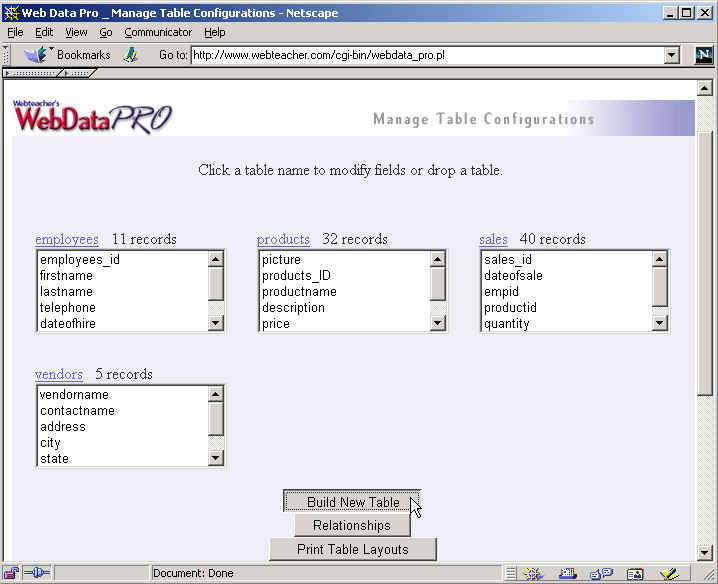 NEED SOMETHING MORE SIMPLE? CHECK OUT WEBDATA CLASSIC -- click here
Webteacher Software now offers



Home | WebData - Web Database Software | Javascript | CGI | Consulting | Training | Contact Us | The Press Room